I finally found some new fabrics for our living room.
Our living room currently has white sheers, and while I love this light and airy look, I have decided to add a bit more colour.
The first fabric I found and fell in love with is the floral on the beige-gray background. Our home has tons of white and tans as well as several tones of blues. I use quite a bit of black and wood tones, and just recently started adding some greys.
I love that the floral has lots of shades of blues in it, plus white and cream. I like mixing my blues, from navy, to denim, turquoise, aqua, deep indigo.... you get the idea. The flowers also have a light and golden yellow, but I can live with those.
This floral is from Fabricland, $28/meter (Canadian) from the new River Colour Story Collection. I was standing in the store trying to justify the cost to myself and the sales lady said if I wanted a 3 meter piece there was one that was already cut and therefore had to be reduced to $5 a meter. Hmm, $15 versus $84 ??? Lucky day!
The floral will be for pillows and probably a runner.
I think this photo below shows the truest colours of the floral, especially the greyness of the tan background. The Benjamin Moore colour strip I am showing in the photos is not an exact match, but the colour falls somewhere around BM Bennington Gray and BM Rockport Gray.
The blue matches really well with BM Wythe Blue. The blue drapery fabric has a linen look to it and has white lining attached.
The blue will be for curtain panels. Today I finally found this lined fabric at a larger Fabricland for $12/meter but it was a special day, buy 1 meter get 2 meters free. So I paid for 2 meters ($24) and got 6 meters total.
I haven't posted this past week but I have been working on bits and pieces of projects that I hope to share soon. Now I can add sewing drapes and cushion covers to my list. Hoping you have a great week ahead.
You can find me linking up at the following parties...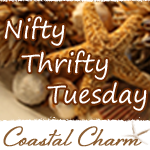 \